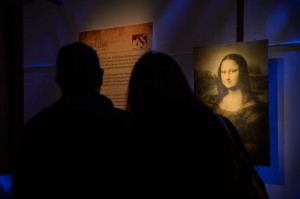 Elvis Presley, Celine Dion, Penn & Teller, the Rat Pack and many others have found their way to Las Vegas. Now Leonardo Da Vinci and the Golden Ratio are headlining. Is it a sequel to "The Da Vinci Code," or one more crazy Las Vegas movie like "The Hangover" or "Last Vegas?" No, it's actually quite different from that, and quite a bit more educational and inspiring.
Imagine Exhibitions created "Da Vinci The Exhibition," which appeared from March 2014 through January 2015 at the Venetian Hotel in Las Vegas. For the exhibition's Las Vegas opening, Imagine wanted to add a new section on Da Vinci's use of the Golden Ratio, or the "Divine Proportion" as he would have known it.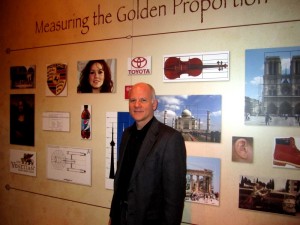 So who did they call? The Phi Guy – Gary Meisner, author/editor/developer of this site and developer of PhiMatrix Golden Ratio Design software. Consistent with their mission for the entire exhibit, Imagine wanted to create an interactive experience for visitors. Together, we created a 15 foot wall of images illustrating examples and applications of the golden proportion. The phi lines in each image were revealed using PhiMatrix software. Visitors are provided with several pairs of golden mean calipers to explore these the divine proportions for themselves. The visitors we spoke with were having a lot of fun learning the concepts of the golden ratio. Many were amazed to see where it appears in nature and how it is used in art, architecture and all types of design.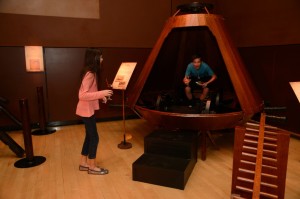 Like Da Vinci's works, the exhibition is truly a masterpiece in itself. It gives visitors a wonderful insight into the mind of a man who was far ahead of his time. Da Vinci created prototypes for the helicopter, airplane, automobile, submarine, parachute and bicycle. Da Vinci's incredible genius is profiled in the exhibition through 65 inventions and machines, his studies of anatomy and his world-renowned paintings. The interactive displays provides visitors with a first hand understanding of the scientific principles underlying Da Vinci's creations. Full size replicas of Da Vinci's most famous paintings allows visitors to get close to each masterpiece. This is often much better than the somewhat distant view they might get at an art museum. The exhibit is self-guided, so visitors can spend as much time as they want reading the detailed explanations for each display and playing with its interactive features. As a point of history, Da Vinci created the illustrations for the book "De Divina Proportione," or "The Divine Proportion." This was by a contemporary of his, Luca Pacioli, and published in 1509. Da Vinci's own use of the Divine Proportion is evident in The Last Supper and The Annunciation. See the photos below for a glimpse of all that can be seen at the exhibition. If you're in Las Vegas, it's definitely worth a visit to the Venetian to experience the brilliance of Da Vinci for yourself. Say hello to Nick, the exhibition's General Manager. Tell him that the Phi Guy sent you. https://www.youtube.com/watch?v=ygIQX5CbkQY Las Vegas Sun Article on March 11, 2014 about the Da Vinci Exhibition Las Vegas Sun Article on February 26, 2014 on Da Vinci Exhibition opening Click on any image below to see the Da Vinci Exhibition high resolution slide show.





















Images used with permission of Imagine Exhibitions.
In the course of preparing examples of the golden ratio for the exhibit, I discovered that even the logo of the Venetian is based on the golden ratio: