The DNA molecule, the program for all life, is based on the golden section.  It measures 34 angstroms long by 21 angstroms wide for each full cycle of its double helix spiral.


34 and 21, of course, are numbers in the Fibonacci series and their ratio, 1.6190476 closely approximates phi, 1.6180339.
B-DNA has spirals in phi proportions
DNA in the cell appears as a double-stranded helix referred to as B-DNA.This form of DNA has a two groove in its spirals, with a ratio of phi in the proportion of the major groove to the minor groove, or roughly 21 angstroms to 13 angstroms.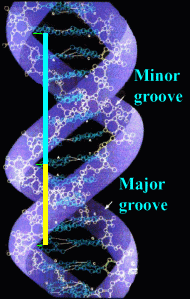 Insight on B-DNA proportions contributed by Melih Yazici.
The DNA cross-section is based on Phi
It has been reported but not yet confirmed by this site that a cross-sectional view from the top of the DNA double helix forms a decagon:

A decagon is in essence two pentagons, with one rotated by 36 degrees from the other, so each spiral of the double helix must trace out the shape of a pentagon.


The ratio of the diagonal of a pentagon to its side is Phi to 1.  So, no matter which way you look at it, even in its smallest element, DNA, and life, is constructed using phi and the golden section!