Phi relationships appear in foreign currency price movements.
It has long been known that phi and Fibonacci relationships appear in the stock markets.  The foreign exchange market, or Forex, is the largest market in the world.  The simplest definition of foreign exchange is the changing of one currency to another.  Since there are no touchable commodities affected, this is the most prominent and most liquid financial exchange anywhere.  In comparison to the daily trading volume averages of $300 billion in the U.S. Treasury Bond market and the less than $10 billion exchanged in the U.S. stock markets, the Forex market often averages $3.5 trillion exchanged daily.  The Forex Market is open 24 hours a day from 4 PM EST Sunday through 4 PM EST Friday.
Forex is not a "market" in the traditional sense.  There is no centralized location for trading activity as there is in currency futures. Trading occurs over the telephone and through computer terminals at thousands of established locations, as well as within home-based trading businesses worldwide.  Because of its size and the fact that the primary traders are bankers and the world's largest corporations, it adheres to technical analysis better than any market in the world.  A trader may earn profits whether buying or selling within the currency exchange by taking advantage of daily market movements.
The PhiMatrix software created by the author of this site (Goldennumber.net) to unveil phi relationships in nature is now being used by a variety of Forex traders and trading systems to identify key market trading targets and opportunities.
One such example, from ProAct Traders, shown below, provides proprietary templates with the indicators designed to anticipate high probability movements, shown in the software by color-coded signals of potential moves. These signals allow traders to see the currency movement and take advantage of these movements for trading opportunities.  Similar strategies are used by Carlos Wolf of FXTecTips.  Elliott Wave International provides instruction on the application of phi and the Fibonacci series to all markets. While any investment vehicle or strategy has risks, the Forex market is reported to be lucrative by those who have mastered the tools and techniques of trading.
PhiMatrix software, shown below as the overlay of yellow grid lines, provides the phi-based pricing relationships that indicate probable stalling points and/or profit targets.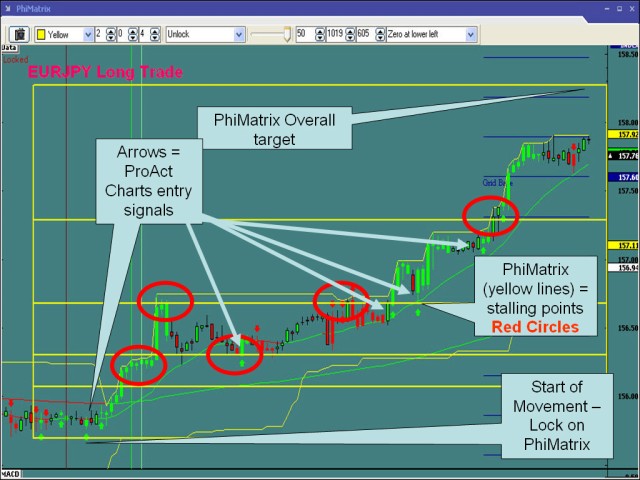 ---
Download free e-book "Cooking in the FOREX"
For more information on this topic, site visitors to GoldenNumber.net and PhiMatrix.com can download a free e-book by Scott Barkley called "Cooking In The Forex" that explains the essentials of foreign exchange markets and Forex trading.  Scott was awarded the International Forex Development Award in 2003 for his work in the UK and was the awarded The Global Forex Award in both 2004 and 2005.

---
Two week trial on PhiMatrix
You can try PhiMatrix Software for free for two weeks to understand how it can be used to identify and predict timing and price movements in any kind of financial market.
Limitation of liability:  PhiPoint Solutions, LLC, (owner of PhiMatrix.com and GoldenNumber.net) is not affiliated with ProAct Traders and accepts no responsibility for results obtained using the software or services provided by any application of the PhiMatrix software to investments or trading techniques.