New findings in 2003 reveal that the shape of the Universe is a Dodecahedron based on Phi.
In October 2001, NASA began collecting data with the Wilkinson Microwave Anisotropy Probe (WMAP) on cosmic background radiation.  Like visible light from distant stars and galaxies, cosmic background radiation allows scientists to peer into the past to the time when the universe was in its infancy.  Density fluctuations in this radiation can also tell scientists much about the physical nature of space.
NASA released the first WMAP cosmic background radiation data in February of 2003.  In October 2003, a team including French cosmologists and Jeffrey Weeks, a freelance mathematician and recipient of a MacArthur Fellowship or "genius award," used this data to develop a model for the shape of the universe.
The study analyzed a variety of different models for the universe, including finite vs. infinite, flat, negatively curved (saddle-shaped), positively curved (spherical) space and a torus (cylindric).  The study revealed that the math adds up if the universe is finite and shaped like a dodecahedron, as in the illustration below provided by Weeks: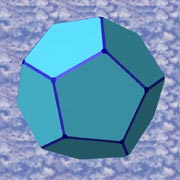 The connection to Phi is found in the Pentagons that form the faces of the Dodecahedron.
A shown on the Geometry page, A dodecahedron consists of twelve pentagons.  Take a pentagon and connect all the points to form a 5-pointed star.  The ratios of the lengths of the resulting line segments are all based on phi, 

, or 1.618!

See the Five and Phi and Penrose Tiling pages for other relationships of the number 5 and pentagons to phi.
This is still a theory, but supported by data that can be tested.
Weeks cautioned that his team's model of a finite, dodecahedral-shaped universe, while promising, is hardly a proven theory. He said, "There's more work to be done. It could be affirmed, or it could be refuted.  What makes it exciting now is it's not a matter of idle speculation.  There's real data to look at and the possibility of getting a definite answer."  If proven by further evidence and scrutiny, the model would represent a major discovery about the nature of the cosmos.
A description of their research appears in the science journal Nature and at National Geographic, below and HERE.
http://physicsworld.com/cws/article/news/2003/oct/08/is-the-universe-a-dodecahedron
A 2015 update by Luminet can be found here:
http://www.scholarpedia.org/article/Cosmic_Topology
Thanks go to J.D. Ahmanson for first bringing this finding to my attention.