Phi is used in the design of many consumer products.
Phi has been used to bring beauty, balance and harmony to some of the world's greatest art and architecture.
It is also used to add style and appeal in the marketing and design of everyday consumer products.
The applications are endless, but are illustrated by a few of the products below.  Click on the image for a larger version.
The gauge shown here was developed by Dr. Eddy Levin and is offered for sale on this site.
Photos with the gauges are also courtesy of Dr. Levin.  Photos with golden ratio grid lines were created with PhiMatrix software.
For another example, note the dimensions of the classic Hewlett Packard HP12C Financial calculator.  The official dimensions on the HP site are 5" x 3.1" which has a ratio of 1.6129:
5" x 3" would have been the simplest, most obvious English measure dimensions. That would have resulted in a width to height ratio of 1.6667.  Dimensions of 5" x 3.2" would have resulted in a ratio of 1.5625, so it looks like that extra 0.1" added by the designers to get to 3.1" was done with a good eye for design or perhaps with divine proportion and purpose to get it closer to 1.618.  Note that the display also falls at golden ratio lines of the vertical dimensions.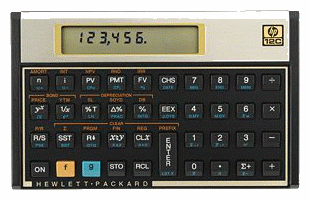 Thanks go to Cesar Augusto Frossard for contributing the observation on the HP 12c.
Do you know of other examples of the golden ratio applied to product designs?  Submit them below.