What do James Bond, Aston Martin and the Golden Ratio have in common? James Bond, also known as 007, drove an Aston Martin DB5 in the movies GoldFinger and GoldenEye, and Aston Martin is now boasting its application of the Golden Ratio in the design of its latest DB9 and Rapide S automobiles. The Aston Martin Rapide S is described as:
"Breathtaking Proportions – The 'Golden Ratio' sits at the heart of every Aston Martin. Balanced from any angle, each exterior line of Rapide S works in concert and every proportion is precisely measured to create a lithe, pure form. Our engineering follows the same principle. A near perfect weight distribution ensures Rapide S is balanced in form and balanced in function."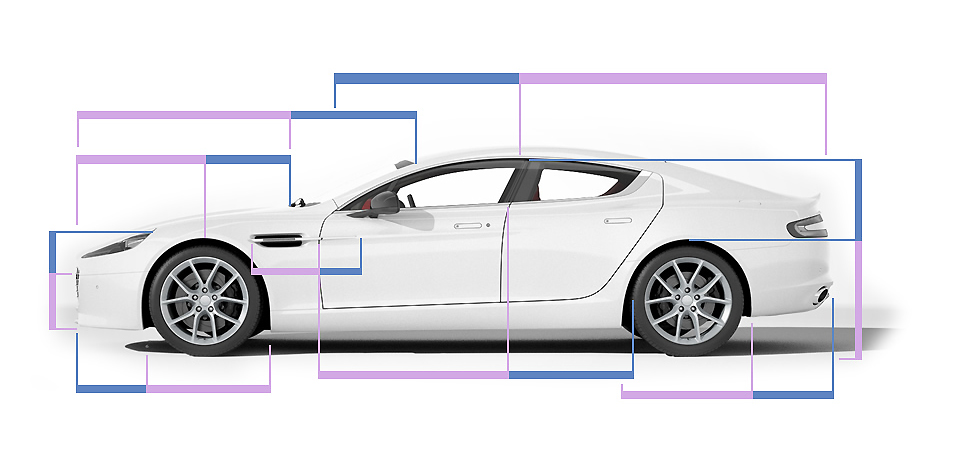 The Aston Martin DB9 is described as:
"Perfectly Proportioned – Every inch of DB9's form is designed for elegance and balance. The simple beauty of nature guides the design of DB9, with the 'golden ratio' setting all proportions. The result is a profile where every line, dimension and proportion works in harmony. Combine this with the near perfect weight distribution, provided by a lower engine placement, and you have a DB9 balanced on sight and in experience."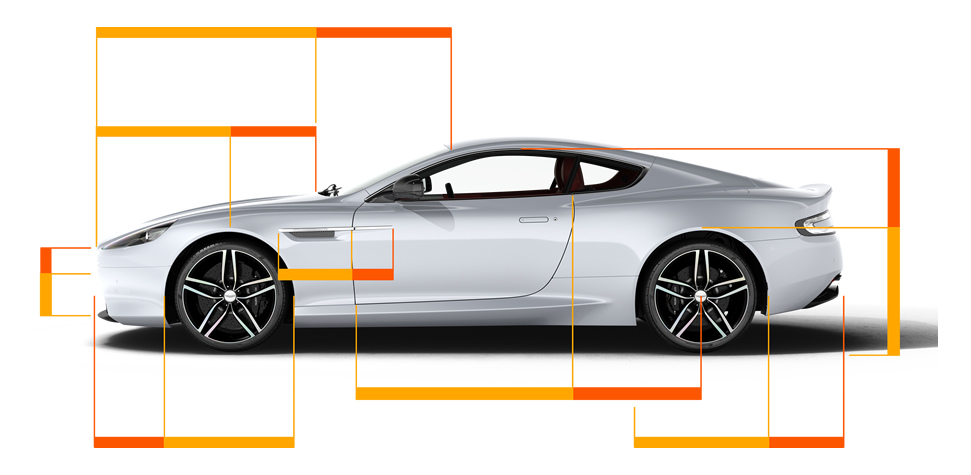 Note how so many of the design choices in the dimensions and proportions of these cars are based on golden ratios, as shown by the colored lines divided at their golden ratio points.  Even the wheels highlight five spokes, with the number 5 being intrinsically related to phi, 1.618, the golden ratio in both its mathematics and geometry.  Most people would agree that these cars embody excellence in design and styling.
Although not documented in the same graphic way, Aston Martin say that its V8 Vantage also uses the golden ratio, "Adhering to the 'golden-ratio' that lies at the heart of all Aston Martin's."
The golden ratio has been used for centuries for design and composition in the arts and architecture, and is frequently used by professional designers in:
Aston Martin is getting some good press on this, with articles appearing in Forbes and the New York Times, but is not the only car manufacturer to use the golden ratio in its design applications.  A number of manufacturers have golden ratio proportions in their logos.
2013-02-13